JDC Entwine celebrates a diverse mosaic of global Jewish identities. As Russian Speaking Jewish young professionals with family immigration stories out of the former Soviet Union, we approach Jewish community differently! We welcome you in all your layered identities, and invite you to explore, connect and activate. Our work with North American young professionals from Russian Speaking Jewish families from the Soviet Union has been made possible with the generous support of Genesis Philanthropy Group.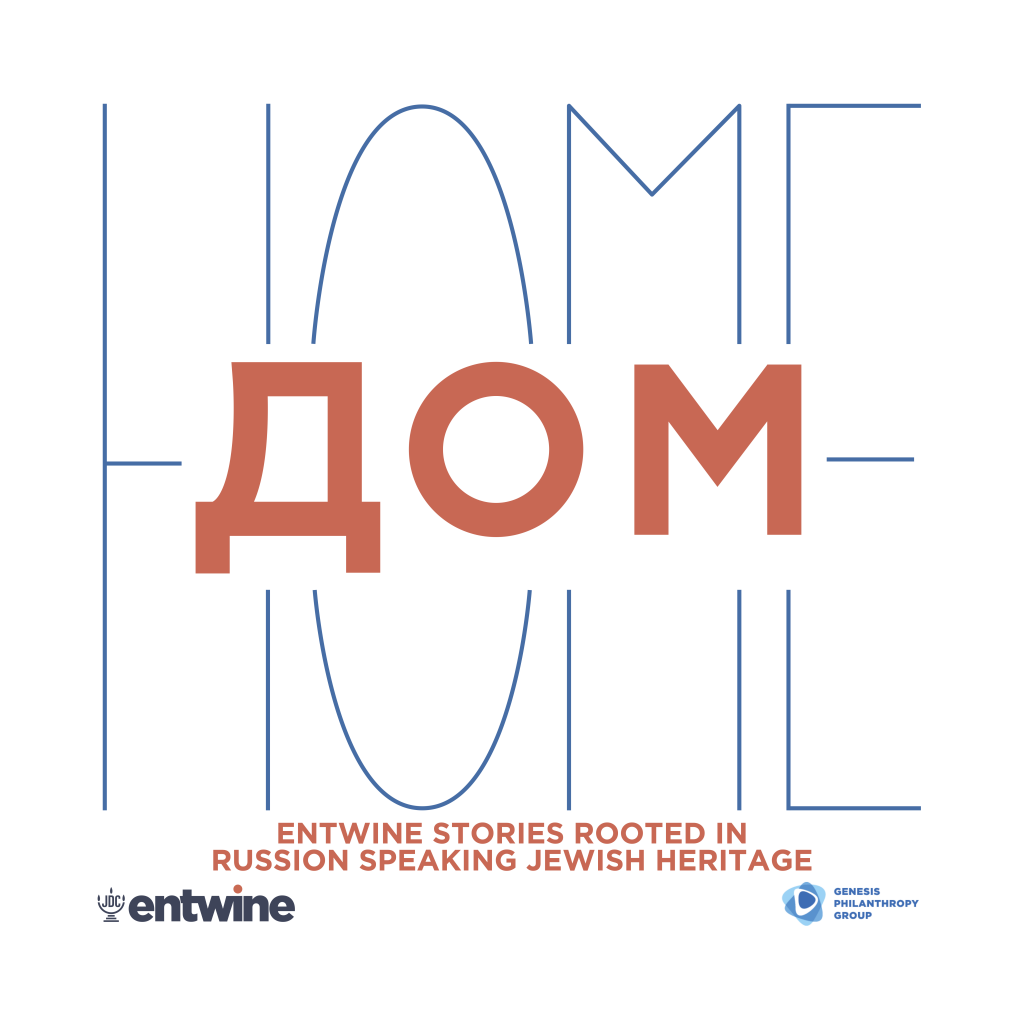 ABOUT THE PODCAST
Not Your Babushka's Russian Speaking Jew
What values guide your compass and how do you activate? Host Margarita Korol speaks with fellow Russian Speaking Jewish young professionals about their complex identity and finding community locally and globally.
Margarita Korol, the host of Not Your Babushka's Russian Speaking Jew podcast, is an artist born in Ukraine the week of the Chernobyl disaster to a Jewish family.  Her mother's side fled Soviet persecution as refugees for Chicago with the aid of JDC and other community organizations.
This project has been made possible with the generous support of Genesis Philanthropy Group.
About This Episode
In this episode, Margarita speaks with Caroline and Matt, who joined her on last fall's trip to Ukraine to experience revitalized Jewish life there since their families immigrated to the US to escape Soviet oppression. Asher Ostrin, interim CEO of JDC weighs in on how he started showing up for Soviet Jews after a meaningful trip to Israel inspired him to take action in a direction that would eventually lead to his impactful career with the Joint.
S1E2
Owning Our Traditions
About This Episode
In this second episode of Not Your Babushka's Russian Speaking Jew, we explore the "why" that drives RSJ young professionals, with and without recent immigrations out of the FSU. We hear stories of how these intentions manifest in RSJ community builders around the world, in our relationships in our own communities, and in our careers, with a fascinating spotlight on the comeup of an RSJ drag performer in NYC.
Guests: Katya Rouzina, Victor Riffel
S1E3
Babushkas in the Time of Corona
About This Episode
Now that we've established the importance of naming the intentions and values you're showing up in your relationships with, we think about arevut, the value that drives people to support those in need. Where does that value come from? We hear three stories—first to Chicago, where Margarita speaks with Lee Litas, journalist and general manager of Forever Young, the senior daycare center that her mother, Chicago radio personality "Martochka" Litas, cofounded to help the same elderly population who enjoyed her shows and events. Then we head to Odesa where we hear from JDC's Inna Vdovichenko about other ways JDC has evolved its response in caring for Jewish elderly—and finally to Brooklyn with Allen Meyerovich whose grandfather's values are inspiring his dedicating time each week to help an elderly JDC client ward off the social effects of isolation during the pandemic through Entwine's Insider Connections Virtual Service opportunity.
About This Episode
Margarita's mother shares her immigration journey as a lone refugee with a toddler in the Soviet Pipeline, helped by JDC in Vienna en route to Chicago. Another Jewkrainian now living in Tel Aviv, Sasha Belenky talks growing up RSJ in Louisville with a drive towards social justice reflected in systems design. Julie Yepishina-Geller Cavanagh reflects on her Calgarian RSJ experience.
S1E5
Assiyah Means Acting on your Values
About This Episode
In lieu of travel slides, Margarita shares some clips from the recent JDC Entwine Jewish Odesa virtual trip exploring JDC's work in the region, and how it has inspired participants to activate in their own communities. Participant Fima Zaltsman, a Nice Jewish Boy and RSJ Biologist in San Francisco (by way of Moscow/ Michigan/ Midwest), shares.
About This Episode
In our season finale, we look at philanthropy as an avenue for young people to consider for activating their potential to uplift vulnerable community members locally and globally. This is a chance to challenge the belief we hear inside and outside RSJ circles that RSJs "don't do philanthropy." JDC Board Member Ed Mermelstein and Moishe House's Senior Director of RSJ Projects, Yana Tolmacheva share insights.
"I Came Home": Katya's Story

"I began to really understand that JDC wasn't just another nonprofit organization, that just talked the talk but didn't walk the walk. Because I'm the one who gets to see and understand in the original language the people that JDC really affects." Born in St. Petersburg, Katya Rouzina left for the United States when she was just a toddler. Thirty years later, she moved to Kharkiv, Ukraine to volunteer with JDC Entwine as the Roslyn Z. Wolf Global Jewish Service Corps Fellow. Her unexpected journey back to living in the former Soviet Union began in 2016, when she took a gig as a Russian translator for JDC. Poring over hours of interview footage of vulnerable elderly Jews, families with special needs, and AJT - Active Jewish Teens participants, Katya soon found herself craving a deeper connection, eventually leading her to quit her tech job and join JDC overseas.

Posted by JDC on Friday, June 12, 2020
Warning
: Invalid argument supplied for foreach() in
/home/site/wwwroot/wp-content/plugins/feed-them-social/feeds/instagram/class-fts-instagram-feed.php
on line
539