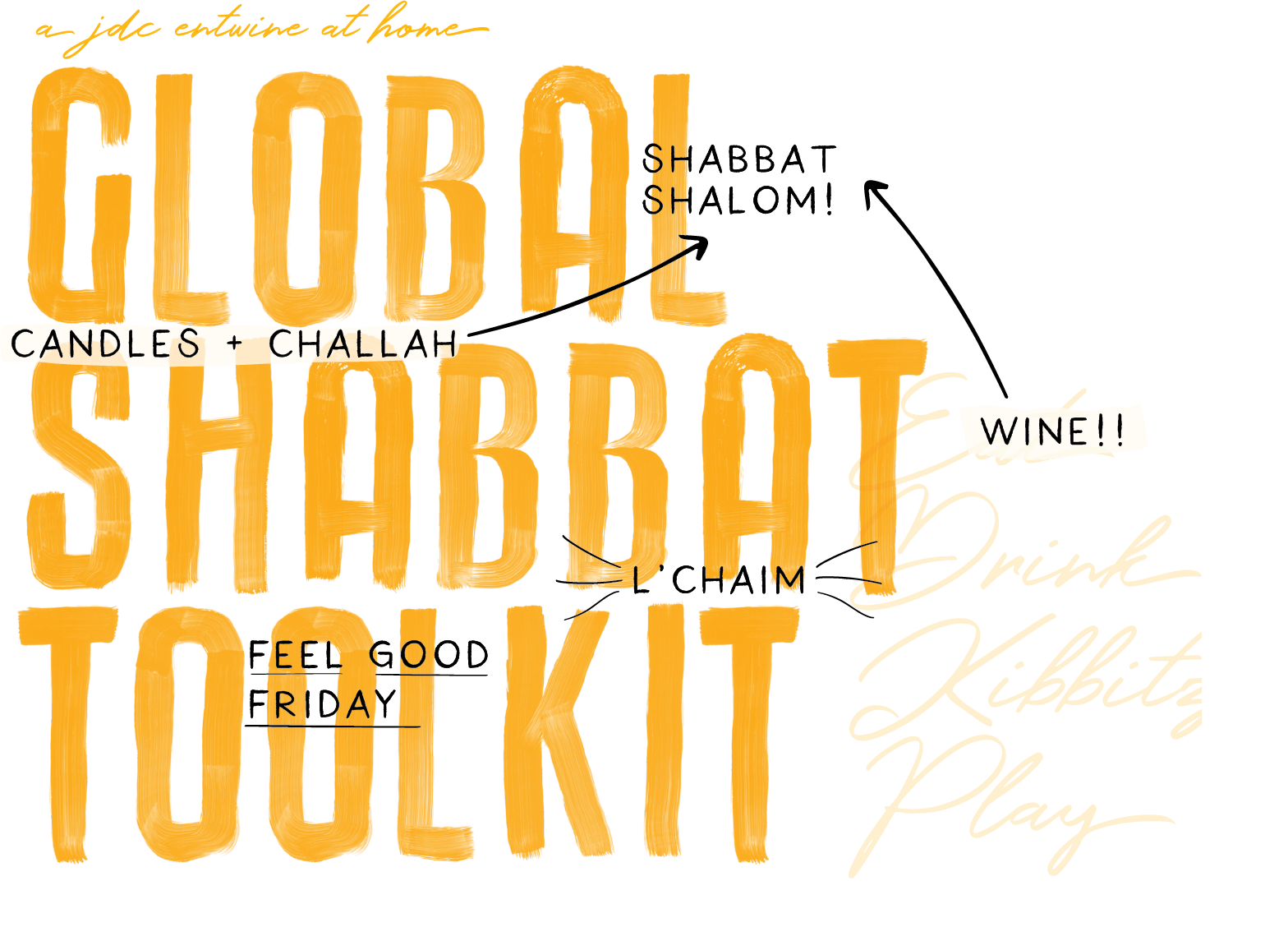 Wherever you are in the world, join the global Shabbat table to connect with the larger Jewish community and JDC Entwine's Global Shabbat Toolkit! Experience how Shabbat is celebrated in different corners of the world and how people weave their personal Shabbat rituals into this tradition.
Created to infuse our ritual practices with a global experience, this Entwine at Home Toolkit is an interactive, global, and meaningful way to engage with Shabbat dinner. We provide everything needed for an impactful evening- Shabbat ritual items, Shabbat practices from global communities, dynamic conversation prompts, and more!
The rest is up to you. Whether dinner is hosted at home, a park, or a restaurant, there's no wrong way to host a global Shabbat dinner! Each one will reflect the host's unique style, taste, and experiences.

Sign up below to receive your own Global Shabbat Toolkit!
Challah Cover from Cuba
Country Postcard Centerpiece
Host Guide with Shabbat Prayers
Shabbat Candles
Cocktail Recipes
Question Cards

JDC Entwine is excited to provide a challah cover which was lovingly crafted in Havana, Cuba by the Jewish community's Women's group. The proceeds from its sales go toward their religious and social programming. We are proud to provide this beautiful piece of Judaica — a symbol of Cuba's Jewish revival supported by JDC — to you with the hope it graces your Shabbat table for many years to come and connects you and your loved ones to the global Jewish community. Please consider making a donation to support the Jewish community of Cuba.

Curious what it's like to join the Cuban Jewish community during their coveted chicken Shabbat dinner?
Want to feel as if you are in the luscious gardens in Rwanda as the youth from ASYV (Agahozo Shalom Youth Village) light Shabbat candles?
Join the global Shabbat experience and explore what travel and global citizenship means to you!  
*Please note:
Generally, we cannot guarantee that your Global Shabbat Toolkit will arrive in time for an order placed less than 2 weeks (6 weeks for international orders) before your dinner. If you have any questions please contact jdcentwine@jdc.org for more information.
LOVE YOUR TOOLKIT? SHARE IT WITH A FRIEND
Copyright © 2016 by the American Jewish Joint Distribution Committee, Inc.
All rights reserved. No part of the Global Shabbat Toolkit may be reproduced, distributed, or transmitted in any form or by any means, including photocopying, recording, or other electronic or mechanical methods, without the prior written consent of JDC.