KAHAL: Your Community Abroad
Connect with local Jewish communities while studying abroad
Through partnerships with the global Jewish community, KAHAL helps students participate in events and build their own relationships with locals and other students in their host cities. The connections don't stop after your year abroad, you'll have access to alumni events, trips, and more when you come back!
As part of KAHAL you receive:
One-on-one support from Entwine staff
Local Shabbat dinners
Volunteer opportunities
Access to unique Jewish holiday events
GLOBAL AMBASSADORS PROGRAM
The Global Ambassadors Program is a semester-long community building opportunity for students studying abroad. This paid opportunity empowers you to take on a leadership role, explore Jewish life abroad and host events for other college students studying in your host city. Apply Now
Who is a Global Ambassador?
Student abroad in Amsterdam, Barcelona, Buenos Aires, Copenhagen, Florence, London, Madrid, Paris, Prague, Rome, or Sydney
Passion for community building
Leader in Jewish community and interest in exploring a new Jewish community
Desire to engage others, embrace diversity, and build relationships
Energy to dedicate a few hours per week to the role – keeping an eye on local happenings, managing student & partner relationships, and hosting monthly events
Program supervisors and fellow cohort members will guide you through this experience and give you all the tools and resources you'll need to be successful. You will receive a stipend per semester for completing your goals and attending monthly seminars. You will also have a program budget to help engage Jewish students abroad through events and coffee dates. If you're looking to dig deeper into Jewish life abroad and connect with Jewish students in your host city, the Global Ambassadors program is for you!
CAMPUS REPS FELLOWSHIP
The Campus Reps Fellowship is a year-long leadership program for college students to bring their study abroad experiences back to help future students going abroad! Reps will receive professional development skills and gain opportunities to network with the larger Jewish community on your campus and globally. Email [email protected] if you're interested!
Who is a campus rep?
a KAHAL Program alum who wants to share their study abroad story
an active leader in their campus' Jewish community
has a desire to meet new people and guide them through the study abroad process
Program supervisors and fellow cohort members will guide your experience. You will receive a $300 stipend per semester for completing your goals and attending monthly professional development seminars. You will also receive a program budget to help promote Entwine on your campus. Join the cohort
Campus Reps, New York University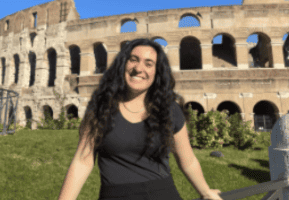 Abby
Katzap
About Abby
Abby is majoring in International Business and Politics at New York University. She loves exploring and meeting new people! Over her time abroad she was the Global Ambassador for NYU and worked with KAHAL to bring a Jewish community to the students studying abroad at the NYU Florence campus. One of the highlights of her study abroad experience was the people she met from an introduction by KAHAL. She now wants to work back on her campus to encourage other students to study and find their Jewish community abroad!
Global Ambassadors, Copenhagen & London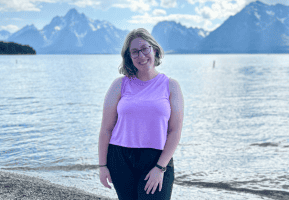 Adina
Naftalin
About Adina
Adina is from San Diego, California where she grew up in a Conservative Jewish Community. In 12th grade, Adina was president of her local USY chapter, simultaneously serving as the San Diego AIPAC High School Intern. After high school, Adina went on the Nativ College Leadership program in Israel. Upon enrolling in Towson University in 2021, she decided to major in International Studies and minor in Political Science. At Towson, Adina is heavily involved in Towson University Hillel, where she was Israel Chair for a year, and then a Greek Life Community builder the next semester. During this time, Adina joined both the Kappa Delta sorority and the Fusion Dance Team at Towson. In Kappa Delta, she was the Director of Community Service and Philanthropy, in which she assisted the VP of Events and Programing in planning community service events. Adina is dedicated to enhancing her communities.
Global Ambassadors, Prague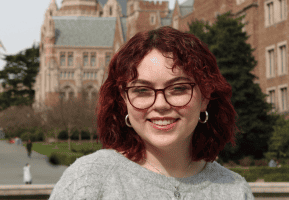 Anna
Feit
About Anna
Anna is an undergraduate at the University of Washington Seattle studying Global and Regional Studies with a minor in Portuguese. She is also interested in languages, Jewish history, archival studies, and library science. She is excited to study abroad in Prague this fall because of the city's Jewish culture, her family roots in Czechia, and the exchange university's Jewish studies courses. In Prague, she hopes to make new friends and explore museums. After graduation, she wants to travel and work abroad. In her free time, she likes attending campus Hillel events, playing viola, writing prose, and reading.
Global Ambassadors, Copenhagen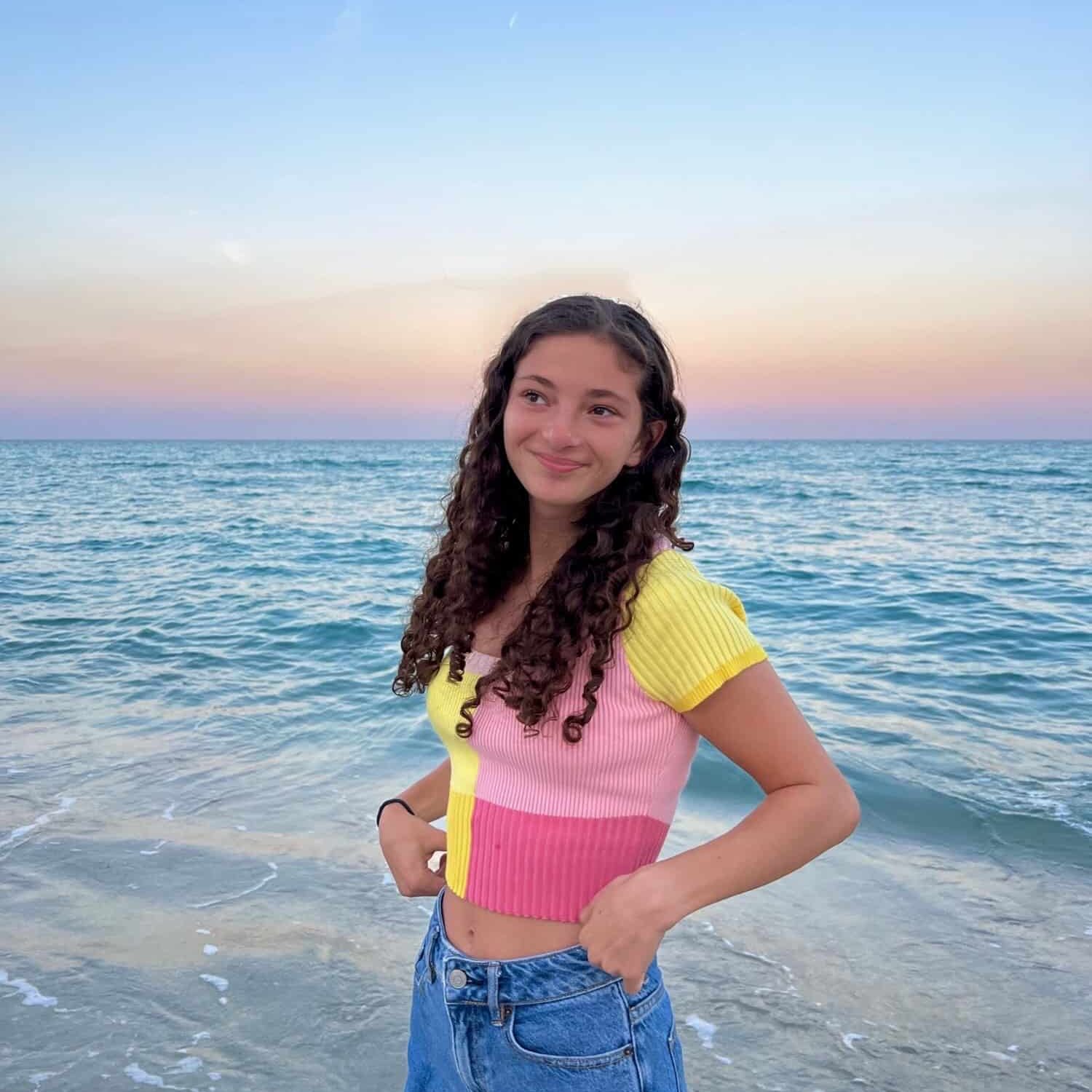 Ari
Schwartz
About Ari
Ari Schwartz is a rising Junior studying Communications and (SLAM) Strategy, Leadership, and Analytics Minor at Tulane University. During her free time, she loves to sing and play tennis with friends. Also, Ari enjoys advertising and event planning which will hopefully lead to network opportunities with individuals in the media industry. Ari loves discovering and taking part in trends whether it's fashion, food, or music. Lastly, she finds joy in photography and capturing beautiful scenery from all over the world.
Campus Reps, Tufts University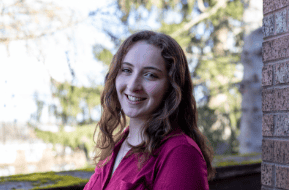 Arielle
Klein
About Arielle
Arielle is a senior at Tufts University studying Sociology and Spanish with a minor in Film and Media Studies. She is originally from Washington DC and Bethesda, Maryland, and served as a Kahal Global Ambassador during her amazing spring 2023 semester abroad in Buenos Aires, Argentina. Outside of school she can be found, among other things, playing saxophone in several music ensembles and supporting her friends in the performing arts, working on the Hillel student board or Interfaith Student Council, participating in the Tufts Prison Initiative or working with and researching refugee service organizations, going to baseball games, watching movies and eating ice cream, procrastinating, and spending time with friends, family and her dog.
Campus Reps, University of Michigan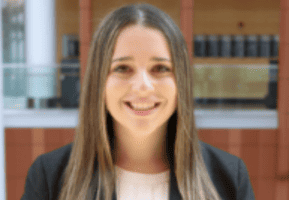 Danielle
Klein
About Danielle
Danielle is a rising senior majoring in psychology and minoring in social work. She will be pursing her masters in social work after graduation. She was a global ambassador during her study abroad in Florence. She is very involved with Hillel at Michigan and is in SDT. She is excited to connect other students at Michigan to Jewish experiences while abroad.
Campus Reps, Vanderbilt University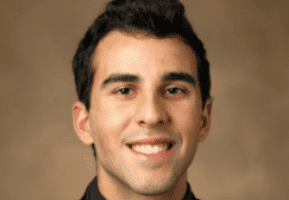 Dylan
Makani
About Dylan
Dylan is a senior at Vanderbilt double-majoring in Neuroscience and Medicine, Health, and Society. He is originally from Great Neck, New York. He recently studied abroad in Copenhagen, Denmark where he was a KAHAL Global Ambassador. He is interested in the intersection between healthcare, technology, and business. For fun, Dylan likes to work on entrepreneurial ventures, play chess, and hang out with friends.
Global Ambassadors, Edinburgh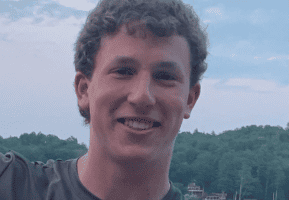 Hunter
Hegmann
About Hunter
Hunter is a double major in Economics and Communications (Media Studies) at Furman University. Hunter spends most of his free time hanging out with friends or playing sports such as soccer, basketball, and golf. In addition, Hunter is an active participant on campus with the Jewish Student Association and the club soccer team (captain/vice president). Over the summer, Hunter works two jobs to stay busy. First, he works at the local pool where he has become a Pool Manager in his now fourth year working there. In addition, Hunter works at a golf course as a cart attendant. Finally, Hunter enjoys working with his camera through photography, videography, and graphic design.
Campus Reps, Drexel University
Jaden
Yanovitz
About Jaden
Jaden is a fourth-year Marketing major at Drexel University's LeBow College of Business in Philadelphia, Pennsylvania. In 2020, she began her college career on Zoom at her house in Maryland and immersed herself in Drexel's Jewish community. Since then, she has served as an active leader on campus through Hillel at Drexel University and enjoys planning and attending Shabbat services, volunteering with the Jewish Relief Agency (JRA), and engaging with prospective Jewish high school students. In 2022, Jaden studied abroad in Prague, Czech Republic at Prague University of Economics and Business (VSE) and fell in love with Prague's vibrant Jewish community, traveling, and making friends around the globe. Outside of her coursework, she has worked on community outreach and healthcare marketing teams through Drexel's cooperative education program. In her free time, Jaden loves to read, write, listen to NPR, try new recipes, and explore all things Philly.
Campus Reps, Tulane University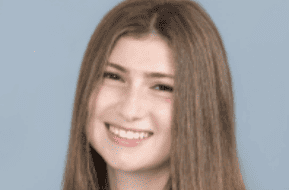 Julia
Fruchtman
About Julia
Julia is a rising senior at Tulane University majoring in Psychology and Communications. She loves to be active whether that's walking, hiking, or yoga. In her free time she likes to read, and be creative doing ceramics, painting or trying new recipes. She's involved on campus with Chabad, Hillel, Tamid, and the art club. She joined the Kahal community during her semester in Copenhagen to connect with other Jewish students and opportunities in the city.
Campus Reps, Cornell University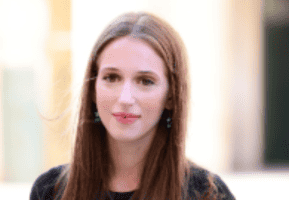 Julia
Kohn
About Julia
Julia Kohn is an undergraduate student at Cornell University. She is studying urban and regional studies within the university's College of Architecture, Art, and Planning, with focuses on photography, environmentalism, and mapmaking. Outside of academics, Julia is involved in the Alpha Phi Omega national service fraternity, Cornell Best Buddies, Cornell Hillel and the Cornell Organization for Urban and Regional Studies. She got involved with KAHAL when she began her semester abroad in Rome, Italy, to maintain her connection to Judaism while abroad and meet other Jewish international students while she was exploring her new city. KAHAL helped her find a place to celebrate holidays and observe Shabbat in Rome, but also led her to finding amazing friends she would end up traveling with and making unforgettable, meaningful memories with while studying abroad.
Campus Reps, Whitman College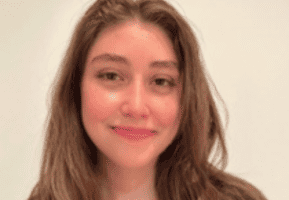 Kiara
Isaias-Day
About Kiara
Kiara comes from Corvallis, Oregon. She is an Anthropology major and Hispanic Studies minor at Whitman College in Walla Walla, Washington. At Whitman she is involved in Schwa, the mixed voice A cappella club and Kehillat Shalom, the Jewish affinity group. While not in school, Kiara works at a winery and enjoys spending her time at cafés reading and people watching.
Campus Reps, American University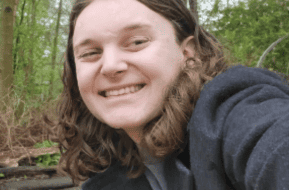 Laura
Polomis
About Laura
Laura is a senior at American University double-majoring in political science and German studies; she studied in Berlin, where KAHAL helped her find a Jewish community she still stays in touch with in the US. Her academic interests include the EU, labor unions, and dialect; outside of the classroom, you can find Laura in one of DC's many museums, studying in the library, or complaining about the New York Rangers with her roommate.
Campus Reps, Queens College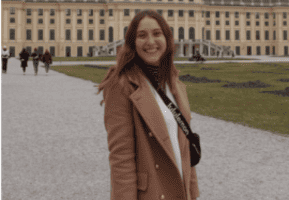 Leah
Markowitz
About Leah
Leah is a junior majoring in Economics and minoring in Business and Liberal Arts at Queens Macaulay Honors College. Leah absolutely loves to travel and explore new destinations and cultures around the world, and highly encourages everyone to do so as well. She lived in Hawaii for 3 months and recently spent a semester abroad in London where she first heard about KAHAL and their mission. She feels passionate about maintaining her Jewish connection and identity on a daily basis, and especially while traveling across the globe. Many of Leah's most meaningful experiences abroad have been linked to her Judaism.
Campus Reps, American University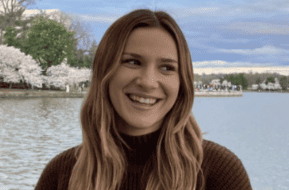 Lily
Serber
About Lily
Lily is from Los Angeles, California. She is a rising senior at American University in Washington, DC, majoring in Elementary Education. Lily is passionate about education, community building, and philanthropy. She has been an active member of her Jewish community as an AU Hillel Engagement Intern for the past couple of years, Onward Israel Alumni Experience Advisor, and a Birthright Israel Ambassador. Lily served as Philanthropy Chair of her sorority and planned several events throughout the year benefitting the Make-A-Wish Foundation. She enjoys spending time with her family and friends in her free time, volunteering, traveling, exploring new places, and cooking