a jdc entwine at home toolkit
ReOrdered is the JDC Entwine spin on Passover. Created to bring a global, interconnected experience around the themes of Passover, this Entwine at Home Toolkit transforms your Seder with unique Passover stories and flavors from all over the world.
Seder means 'order' in Hebrew, so ReOrdered takes global inspiration from traditional Passover elements while leaving the order up to you! Pick the pieces that resonate with you and do them in whatever order you like. There's no right or wrong way.
When you register to receive your toolkit, you'll also receive an email with the Host Guide to help get you acquainted with the toolkit as you prepare for your Seder.
What's Inside Your Global Passover Toolkit?
Recipes from around the world
Community Cards with stories from different countries
Host Guide
Exclusive content the week of Passover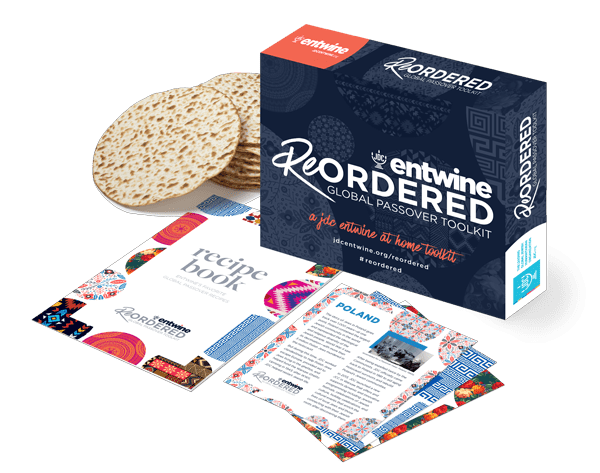 *Matzah is not included in the toolkit
Suggested Donation
The ReOrdered Toolkit is available to you at no cost thanks to the generosity of our funders. If you would like to show your love for JDC Entwine, please click here to make a donation.  
Copyright © 2022 by the American Jewish Joint Distribution Committee, Inc.
All rights reserved. No part of the Global Passover Toolkit may be reproduced, distributed, or transmitted in any form or by any means, including photocopying, recording, or other electronic or mechanical methods, without the prior written consent of JDC.