the Stephen & Sheila Lieberman Global Leaders Trip
Embark on a journey to Georgia with JDC Entwine and participate in cultural exchange with young professionals from around the world! Inside Jewish Georgia gives you a taste of Georgian culture through food, drink and atmosphere. Wander the cobblestone streets of Tbilisi, taste wine from the oldest wine region in the world, and enjoy Khachapuri, the traditional Georgian cheese-filled bread. You'll have the opportunity to spend Shabbat with young professional leaders from Hillel Tbilisi and learn about the history and current events of the Former Soviet Union region through discussions with local experts.
This trip has been generously funded by Stephen & Sheila Lieberman. A portion of trip participants will be recruited from global communities that JDC works in.
Discover the Jewish communities of Tbilisi, Gori, and Kutaisi, Georgia.
Engage with local BBYO teens and spend Shabbat with young professional leaders at Hillel Tbilisi.
Participate in home visits and deliver needed supplies to elderly community members to learn about JDC's Hesed welfare model.
Learn about the history of Communism in the region with a visit to the Stalin Museum and briefings with US Embassy staff and local historians.
Spend a day at a JDC-supported community center and help lead activities and discussions for at-risk children, teens and parents served by Georgia's Jewish Family Service.
Experience Georgia's rich and unique culture and cuisine through khachapuri, wine, traditional dance and exploring Tbilisi's cobblestone streets.
"A highlight of my trip to Georgia was connecting with the community through song and dance — what a joy!"
– Past Insider Trip Participant
PARTICIPATION FEE
North American: $1,000 USD
International: $200 USD
Participation fees do not include airfare. Limited travel subsidies for international participants to help offset the cost of flights are available upon request during the application process. This trip has been generously subsidized with support from Stephen and Sheila Lieberman.

Local transportation within Georgia



Site visits, briefings, tours, etc.

Medical and emergency evacuation insurance
*Please note that your participation fee does not include international airfare. Travel and cancellation insurance is required.

Trip Dates
September 4-11, 2023
Application Deadline:
March 24, 2023
JDC (the American Jewish Joint Distribution Committee or "The Joint") is the leading Jewish humanitarian organization, working in 70 countries to lift lives and strengthen communities. We rescue Jews in danger, provide aid to vulnerable Jews, develop innovative solutions to Israel's most complex social challenges, cultivate a Jewish future, and lead the Jewish community's response to crises. For over 100 years, our work has put the timeless Jewish value of mutual responsibility into action, making JDC essential to the survival of millions of people and the advancement of Jewish life across the globe. Learn more at jdc.org.
The safety and security of our participants is of the utmost importance. To protect our participants and the communities which we visit, JDC Entwine requires proof of COVID-19 vaccination for program participation. Additionally, JDC Entwine will be following rules and regulations set forth by local government officials. Trip participants will agree to abide by all COVID protocols set forth by both governing bodies and JDC Entwine staff and partners. Travel always assumes some risks and participants are aware of the medical risks associated with travel. This trip is subject to COVID protocol updates, changes, and cancellation. Learn more.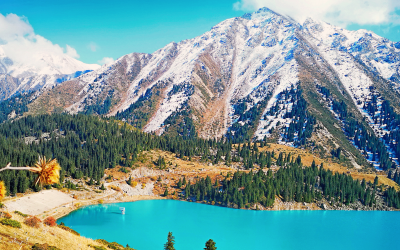 Breathe in fresh mountain air on a hike around Big Almaty lake, engage with elderly clients from the Jewish Community Center of Almaty, and visit Osh Bazaar, one of the largest bazaars in Bishkek.
read more