in partnership with Hillel UW
March 17-24, 2024

Join JDC Entwine and Hillel UW on the adventure of a lifetime in Poland! Experience how 70 years after the darkest period of Jewish modern history, young Jews across Europe are raising their communities out of the ashes and into a new era of revitalization and strength. Explore how JDC's programming has grown to support this community throughout history, from the basic human needs of displaced persons camps, to the innovative programming of today. Enjoy Poland's beautiful synagogues, celebrate Shabbat with local Jewish young adults and take in the vibrant communities of Warsaw and Krakow!
Participate in JDC's ongoing Jewish renewal efforts through communal activities at the vibrant JCCs in Warsaw and Krakow, Poland.
Learn about JDC's pivotal role during and after the Holocaust to save Jews and support post-war refugees in Eastern Europe.
Visit Poland's beautiful historic synagogues and other Jewish landmarks.
Explore historic sites including the Polin Museum, erected on the site of the former Warsaw ghetto.
Celebrate Shabbat together with the local community of Jewish young adults.
Enjoy traditional Polish dishes and explore the rich flavors of the country's cuisine.
"No matter what happens, travel gives you a story to tell."
– Jewish Proverb
PARTICIPATION FEE:
$1,000 (including airfare)

International round-trip airfare from Seattle & local transportation within Poland



Site visits, briefings, tours, etc.

Medical and emergency evacuation insurance
*Please note that your participation fee includes international airfare. Additional travel insurance is highly encouraged.

Trip Dates
March 17-24, 2024
Application Deadline:
January 3, 2024
JDC (the American Jewish Joint Distribution Committee or "The Joint") is the leading Jewish humanitarian organization, working in 70 countries to lift lives and strengthen communities. We rescue Jews in danger, provide aid to vulnerable Jews, develop innovative solutions to Israel's most complex social challenges, cultivate a Jewish future, and lead the Jewish community's response to crises. For over 100 years, our work has put the timeless Jewish value of mutual responsibility into action, making JDC essential to the survival of millions of people and the advancement of Jewish life across the globe. Learn more at jdc.org.
The safety and security of our participants is of the utmost importance. To protect our participants and the communities which we visit, JDC Entwine requires proof of COVID-19 vaccination for program participation. Additionally, JDC Entwine will be following rules and regulations set forth by local government officials. Trip participants will agree to abide by all COVID protocols set forth by both governing bodies and JDC Entwine staff and partners. Travel always assumes some risks and participants are aware of the medical risks associated with travel. This trip is subject to COVID protocol updates, changes, and cancellation. Learn more.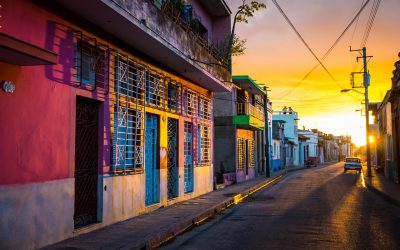 Join JDC Entwine and gain an exclusive pass to Cuba — an island so close in proximity but that remains a mystery to many.
read more