in partnership with REALITY
September 11 – 18, 2022

JDC Entwine and REALITY are back with an epic global travel experience- Inside Morocco! Together with REALITY community members, discover Morocco's rich history stepped in tradition. This vibrant community takes pride in its values, people and institutions. We will examine the robust creativity, artisanal ventures, and changemakers who have contributed to this vibrant culture. Join us for the adventure of a lifetime as you surround yourself with Morocco's colorful streets, lively surroundings, and robust interfaith history.
Please Note: This journey is only open to REALITY alumni. 
Engage in dynamic conversations around the topic of global responsibility with alumni from different REALITY journeys and diverse backgrounds
Explore ancient communities and holy sites with visits to the Bahia Palace, King Hassan II Mosque, Beth El Synagogue and other landmarks throughout Morocco
Interact with JDC supported initiatives, including schools and the elderly home, to learn how the community is preserving their culture for the next generation
Get lost in the maze-like alleys of the medina; Take in the bustling markets and meander through colorful spice bazaars
Immerse yourself in the local culture – sample traditional cuisine, admire artisanal handicrafts, and meet local community members
Learn about the famous changemakers and creations that originate in Morocco and what inspires their revolutionary feats
Discuss coexistence with the Mimouna Association and visits the only Jewish Museum in the Arab world
PARTICIPATION FEE
$1,300 (airfare not included)
*Please note that participation fee for this experience includes $300 to be donated directly JDC Morocco to assist with programming for the Moroccan Jewish Community.
This experience is highly subsidized by Schusterman Family Philanthropies and JDC Entwine. Limited needs-based subsidies are available upon acceptance.

Local transportation within Morocco


Hotel accommodations (single occupancy)

Site visits, briefings, tours, etc.

Medical and emergency evacuation insurance.
*Please note that your participation fee does not include international airfare. Participants should arrive to/depart from Casablanca.

Trip Dates
September 11 – 18
Application Deadline
Currently Closed
For the past decade Morocco has enjoyed unprecedented stability under the rule of King Mohammed VI, who remains popular with his people despite developments in the region. The millennia-old Jewish community of Morocco traces itself back to the destruction of the Second Temple and the expulsion from Spain in 1492. Rich with history and Sephardic tradition, Jewish life in Morocco today is strong and dynamic, with some 3,000 Jews living in Casablanca and smaller communities sprinkled throughout the country's periphery. JDC began working in Morocco in the 1940s, assisting refugees from Nazi Europe who had escaped to Tangier. Throughout the country, JDC partners with and provides critical assistance to local Jewish institutions to help implement a range of relief, education, and community strengthening programs. 
REALITY brings inspiring changemakers from around the globe on a transformative journey through Israel to reignite their passion and potential for repairing the world. It is a thought-provoking exploration of one's leadership capacity and impact on today's most pressing challenges, with Israel as a complex and motivating backdrop. REALITY is an initiative of the Charles and Lynn Schusterman Family Philanthropies.
The safety and security of our participants is of the utmost importance. JDC Entwine will be following rules and regulations set forth by local government officials. Trip participants will agree to abide by all COVID protocols set forth by both governing bodies and JDC Entwine staff and partners. Travel always assumes some risks and participants are aware of the medical risks associated with travel. This trip is subject to COVID protocol updates, changes, and cancellation.
All individuals traveling on Inside Morocco with REALITY must be vaccinated by an FDA- approved or an EMA-approved vaccine. Participants must ensure the following:
A. They are within six months of their second dose of the vaccine (or one dose of J&J).
B. They received their vaccine booster—meaning they received a total of 3 vaccines (or 2 for J&J) and a week has passed since the last dose.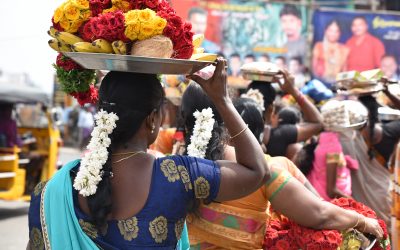 Join HUC peers from all four campuses to experience the vibrant Jewish community of India.
read more