for Jews of Color
in Partnership with Be'chol Lashon
December 9-15, 2019

Immerse yourself in Brazil and explore the country's diverse culture and history in Sao Paulo and Rio de Janeiro, while connecting with a group of Jewish young professionals of African, Asian, Latinx, Sephardic and/or Mizrahi heritage. Together, we will engage with Brazil's rich, distinct and interconnected Jewish communities.
This trip is developed in partnership with Be'chol Lashon, who strengthen Jewish identity by raising awareness about the ethnic, racial and cultural diversity of Jewish identity and experience.
Visit Rio de Janeiro and Sao Paolo's iconic landmarks such as Christ the Redeemer statue, the colorful Selaron Staircase, and fashionable Paulista Avenue
Participate in tailored group discussions that exploring diverse narratives and identities within the framework of the global Jewish story
Explore Brazil's Jewish past as you tour Bom Retiro, the oldest Jewish Quarter in Latin America, and Synagogue Ari, one of the largest synagogues in the country
Engage with local young professionals shaping Brazil's vibrant and diverse Jewish life from various organizations such as LAZOS, Moishe House, and Hillel
Enjoy the festivities at Festival Carmel, Clube Hebraica Sao Paulo (one of Brazil's Jewish clubs) biannual celebration of Israeli dance
Understand JDC's regional work across Latin America by interacting with Brazilian participants of JDC-sponsored leadership conferences
Immerse yourself in the local culture – sample traditional dishes such as pao de queijo, learn to samba, sip on a caipirinha (Brazil's national drink), and much more
"I have had the opportunity to travel the world with peers, who at first were strangers and now are lifelong friends who inspire me to be my best self."
– 2019 Trip Participant
PARTICIPATION FEE
$1,200*
(This trip has been highly subsidized in order to provide greater access and opportunity. Average actual cost of an Entwine Insider Trip is estimated at $4,500/person)




Site visits, briefings, tours, etc.

Medical and emergency evacuation insurance.
*Please note that your participation fee does not include international airfare to/from Brazil.

Trip Dates
DECEMBER 9 – 15, 2019
(GROUND DATES ONLY, does not include international flight)
Application deadline
September 1
This trip is open to all members of the racially, ethnically and culturally diverse Jewish community. We encourage those with African, Asian, Latinx, Sephardic and/or Mizrahi heritage and all other identities in this community to apply. 
Jews have been present in Brazil since the Portuguese arrived in the year 1500. Commonly known as conversos (converts), many of them were forced to convert to Christianity to avoid the wrath of the Inquisition. Jewish immigrants from the Netherlands established a synagogue in Recife, Brazil in 1637 – the oldest in America.  
Since the 16th century, waves of Jewish immigrants arrived to Brazil, including from Morocco and Russia and Poland escaping pogroms, in the mid-1800s. The largest group of immigrants came as war refugees fleeing Nazi Germany in the 1930s. To respond to the large influx of Jewish refugees, JDC established programs to assist with the medical and welfare needs of this community, and to help build Jewish life.  
Today there are some 120,000 Jews living in Brazil, the second largest community in Latin America after Argentina. Primarily concentrated in Sao Paulo and Rio de Janeiro, the Jewish community of Brazil is vibrant and diverse, with established institutions catering to all aspects of Jewish life, culture and religious practice.  
JDC works across the Latin American region, including in Brazil, in partnership with local communities. JDC has organized regional conferences and trainings to enhance the leadership capacity in local Jewish institutions and encourage more participation by women in leadership roles. In 2018, JDC organized women's leadership conferences in Santiago, Chile and in Sao Paulo, Brazil. 
Entwine is a one-of-a-kind movement for young Jewish leaders, influencers, and advocates who seek to make a meaningful impact on global Jewish needs and international humanitarian issues. We do this by offering service experiences in Jewish communities around the world, educational events and programs, and leadership development opportunities. Entwine is an initiative of JDC, the largest Jewish humanitarian organization in the world. JDC works in 70 countries, specializing in humanitarian aid, Jewish community renewal and disaster relief.
Be'chol Lashon (Hebrew for "in every language") strengthens Jewish identity by raising awareness about the ethnic, racial and cultural diversity of Jewish identity and experience. Be'chol Lashon brings the historic Jewish commitment to civil rights and racial justice forward into the 21st century. Embracing the historical diversity of the Jewish people and, more importantly, the growing diversity of the community today is the most important step toward securing relevancy in an exciting American future.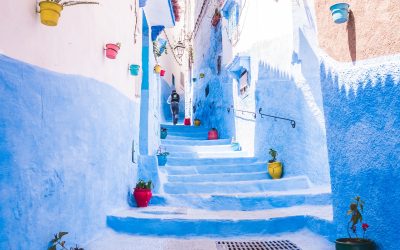 Jewish young professionals from the greater Cleveland area are invited to join JDC Entwine and jHUB as we venture to Morocco on a Virtual Insider Trip experience.
read more