for Los Angeles-area young adults
October 16-23, 2023

Join JDC Entwine and NuRoots, the young adult initiative of The Jewish Federation of Greater Los Angeles, on a journey to the Balkans! On Inside Jewish Bosnia & Croatia, you'll immerse yourself in global Jewish culture with a group of other Los Angeles-area young adults. During this trip, explore JDC's work in Bosnia and Croatia, visit Jewish communities, meet with community leaders, and tour this breathtaking region.
Apply today to embark on this unique journey and gain insight into diverse perspectives from around the world!
Please Note: This experience is being offered exclusively to those residing in the Los Angeles area. 
Gain insight into JDC's pluralistic strategy and learn the history of the daring rescue missions they conducted for both Jewish and non-Jewish citizens during the Yugoslavian war in the early 1990s.
Meet the small but vibrant Jewish communities of Sarajevo and Zagreb, and get an inside look at the programs and young leaders in JDC's Junction Europe Network.
Learn about the JDC-founded WHEP (Women Health Empowerment Program), which serves women's health needs in Bosnia & Herzegovina and has since become the independent organization, Think Pink.
See one of the world's oldest Sephardic illuminated haggadot — the Sarajevo Haggadah, and visit historic Jewish landmarks throughout Bosnia & Croatia.
Enjoy the landscape of the Balkans — from the cobblestoned streets of Zagreb to the pristine coastline of Split. Immerse yourself in the beauty of the Plitvice Lakes National Park and Sarajevo's Old Town.
"I had an incredible time in Bosnia and Croatia! I was very touched by the Sarajevo community's warmth and inclusion. I also enjoyed exploring my Jewish identity somewhere else in the world — it made me feel connected to global Jewishness!"
— Past Inside Jewish Bosnia & Croatia trip participant
PARTICIPATION FEE
$1,250 (not including airfare)

Local transportation within and between Bosnia & Croatia



Site visits, briefings, tours, etc.

Medical and emergency evacuation insurance
*Please note that your participation fee does not include international airfare. Travel and cancellation insurance is required.

Trip Dates
October 16-23, 2023
JDC (the American Jewish Joint Distribution Committee or "The Joint") is the leading Jewish humanitarian organization, working in 70 countries to lift lives and strengthen communities. We rescue Jews in danger, provide aid to vulnerable Jews, develop innovative solutions to Israel's most complex social challenges, cultivate a Jewish future, and lead the Jewish community's response to crises. For over 100 years, our work has put the timeless Jewish value of mutual responsibility into action, making JDC essential to the survival of millions of people and the advancement of Jewish life across the globe. Learn more at 
jdc.org
.
About NuRoots & The Jewish Federation of Greater Los Angeles
NuRoots
, the young adult initiative of
The Jewish Federation of Greater Los Angeles
, helps young adults in their twenties and thirties find and make meaningful community across Los Angeles—through gatherings of all sizes, citywide festivals, immersive experiences and trips, leadership development and volunteer opportunities, reimagined rituals, and expansive community partnerships. The Jewish Federation of Greater Los Angeles convenes and leads L.A.'s vast Jewish community and micro-communities, and leverages our resources to assure that we are vibrant, resilient, inclusive, and interconnected. We're an organization committed to being there for every Jew at every stage of life.
The safety and security of our participants is of the utmost importance. To protect our participants and the communities which we visit, JDC Entwine requires proof of COVID-19 vaccination for program participation. Additionally, JDC Entwine will be following rules and regulations set forth by local government officials. Trip participants will agree to abide by all COVID protocols set forth by both governing bodies and JDC Entwine staff and partners. Travel always assumes some risks and participants are aware of the medical risks associated with travel. This trip is subject to COVID protocol updates, changes, and cancellation.
Learn more
.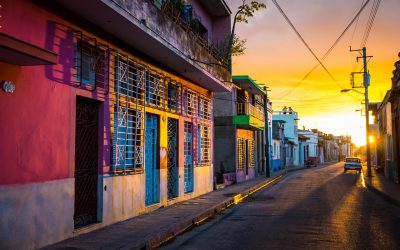 Join JDC Entwine and gain an exclusive pass to Cuba — an island so close in proximity but that remains a mystery to many.
read more