Not Your Babushka's Ukraine: For Russian Speaking Jewish Young Professionals
October 27 – November 3, 2019
Explore identity and diaspora by way of the renaissance of Jewish life in Ukraine, a country that for centuries has been a bridge between Eastern and Western Europe and today struggles to create its own unique post-communist identity.
Experience first-hand the thriving Jewish community of Kharkov, Ukraine's second largest city and the former capital, a major cultural, scientific, educational, and industrial center, and Odessa, a charming historical city on the shores of the Black Sea.
Inside Jewish Odessa & Kharkov has been made possible with the generous support of Genesis Philanthropy Group.
Visit Odessa's sites including a tour of the Jewish underground catacombs and moving experiences at the opera house.
Explore your own global identity and cultural memory through dynamic interactions, discussions, and walking tours of Kharkov's key sites including synagogues, memorials, museums and Gorky Park.
Hang out with your young professional Ukrainian counterparts, and experience their exciting initiatives addressing community needs.
Engage with JDC's global responsibility work with Odessa's elderly, teens, and children by visiting Chesed Social Welfare Centers, Jewish Community Centers, and through home visits with elderly receiving JDC aid.
Enjoy a vibrant Shabbat experience with the local Jewish community.
This trip is ideal for young professionals from a Russian Speaking Jewish background (with at least one parent who was born in the Former Soviet Union) who are curious about global issues and who enjoy traveling in groups with like-minded peers.
EARLY BIRD PARTICIPATION FEE (APPLICATIONS RECEIVED BY JUNE 20):
$900
REGULAR TRIP FEE (APPLICATIONS RECEIVED AFTER JUNE 20):
$1,100
(Original trip price without subsidization: $3200)

Roundtrip flights from New York to Ukraine, and local transportation within Ukraine



Site visits, briefings, tours, etc.

Medical and emergency evacuation insurance.

Trip Dates
October 27 – November 3, 2019
Application Deadline
June 30, 2019
Ukraine is home to the 3rd largest Jewish community in Europe and the 5th largest in the world. Like much of former Soviet Jewry, Ukraine's Jews have survived pogroms and the Holocaust, and outlasted Communist Jewish oppression. Today, as the country struggles with economic turmoil and an aging infrastructure, its Jewish community is growing, working tirelessly to assist its needy and to foster leadership among its most dedicated. JDC re-entered Ukraine to rebuild the shattered remnants of Jewish life following the fall of the Soviet Union. Faced with the acute suffering of Jews made vulnerable by the difficult political and economic transition, including the hyperinflation of the early 1990s, JDC provided critical food, medicine, and other support that continues as a hallmark in the region.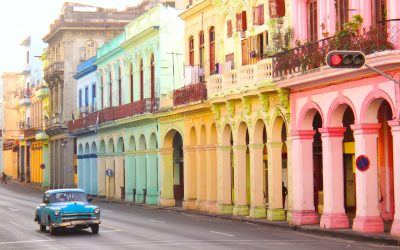 Gain an exclusive pass to Cuba – an island so close in proximity but that remains a mystery to many.
read more