Inside Rwanda: My Life Will Never Be the Same Again
posted January 9, 2023 by Dr. Nadia Iermakov, Marion Lemesh Fellowship Recipient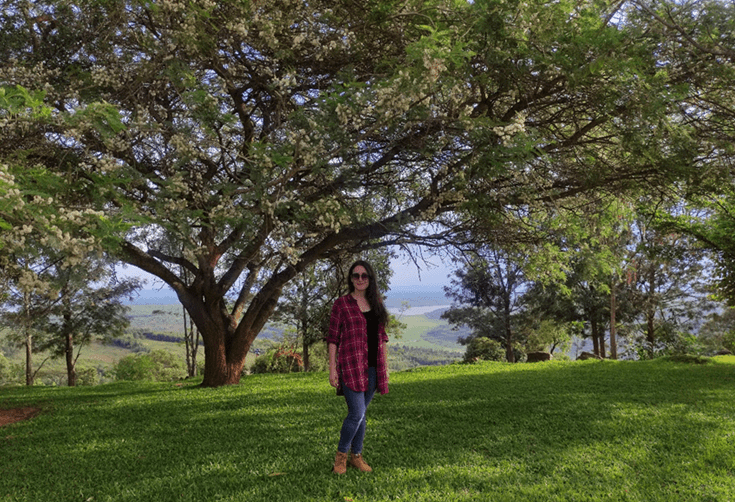 Coming back home from Rwanda, I felt so many deep emotions: honor, belonging, fullness, admiration, and a willingness to move forward. Sometimes, it feels as if this trip lasted not a week, but several months or even a year. It was incredible that such a huge experience could be compiled into a week. 
JDC Entwine's Inside Rwanda was my first trip to Africa and my first extended trip. It was my first time seeing such incredible poverty; yet, at the same time, seeing such a wonderful light coming from people. It was my first time realizing that there are endless opportunities to share my experience and learn from the people around me. This experience was made possible due to the generosity of the Marion Lemesh Fellowship. 
I was very excited to have the opportunity to be among the Agahozo Shalom Youth Village (ASYV) students, employees, and volunteers. They taught me the feeling of immense gratitude for every moment of life, and I experienced the support they show each other and the way they express their thoughts vividly. Most importantly, they taught me how to focus on the positive aspects of life, even when it is hard to find them. 
One of the students, Pascaline, told me about the brightest moment in her daily life: her school break in the morning when students receive a cup of tea and a piece of white bread. Every day, she takes her portion and slowly consumes it while looking at the valley. She imagines what her day will be like and dreams about her future. Pascaline said that after she arrived at ASYV, coming from terrible poverty and being an orphan, she believes that anything is possible. 
I noticed this girl on the first evening of our stay in the village. Sharing her experience of being in the village family, she said that she experiences immeasurable happiness coming back from school and announcing "Mom, I'm back home." Such a simple phrase, but it conceals much pain and happiness for this student. Every day, I tried to sit next to her during lunch and dinner, and she would not start eating until I arrived. She talked to me about her dreams and academic success. I admired the incredible resilience of this girl — the resilience that so many of us lack. 
On the last evening, when we had to say goodbye to our family, many girls came up to hug, say thanks, and announce that they want to be like me — to work at a university and be a researcher. She was in no hurry, waiting for her turn. She said: "You're like a bright sun to me. Meeting you is like a bright flash." After this, she asked, "Can I keep the memories of you in my heart?" In the Agahozo Shalom Youth Village, there were many wonderful students. But she was special. Before leaving, I took a picture near the tree under which she drinks her tea and eats her piece of white bread (above). 
Today, when I heard my son coming home from school and saying, "Mom, I'm back home," I felt happy in a distinctive way. 
Five years ago, my family and I had to leave Ukraine because of the war. These past few years have not been easy for me, but this trip to Rwanda showed me that if I need to focus on something, it should be only the positive moments of life. After Rwanda, my life will never be the same again.