Frances C. Eizenstat JDC Fellowship in International Jewish Service
Discover the renaissance of Jewish life in Ukraine, a country that for centuries has been a bridge between Eastern and Western Europe and today struggles to create its own unique post-communist identity. 
Experience first-hand the thriving Jewish community of Kharkiv, Ukraine's second largest city and the former capital, a major cultural, scientific, educational, and industrial center, and Odesa, a charming historical city on the shores of the Black Sea. Gain real-life experience in philanthropic giving through an on-trip giving circle*.   
About the Frances C. Eizenstat JDC Fellowship in International Jewish Service
Inside Jewish Ukraine is in honor of Frances C. Eizenstat z"l, a great Jewish Leader. Ms. Eizenstat's commitment to improving the lives of those in need around the world was evident in nearly everything she did, including her 12 years as a JDC Board Member. In line with Fran's interest and support of communities in the process of rebuilding Jewish life, this experience allows young adults to experience, learn, and contribute to the building of Jewish life and welfare needs in post-Communist countries. It also provides an opportunity to engage with Ms. Eizenstat's family and JDC's leadership pre- and post-experience.
*What is a giving circle?
In a giving circle, members pool their charitable contributions and decide together where the pooled funds should go. Giving circles are a powerful tool for building community – for strengthening members' personal, professional, and philanthropic networks. Through their consensus-based decision-making, they model the importance of philanthropic partnership and collective impact, reinforcing the truism that no funder, no matter how large or influential, can solve social problems on his or her own. This trip consists of an immersive giving circle component whereby each participant is expected to make a charitable donation of $250 to JDC. During the trip, the cohort will determine where to donate its pooled resources.
Discover the traditions, architecture, cuisine, nightlife and more in the vibrant cities of Odesa & Kharkiv

Visit Odesa's sites including a tour of the catacombs, a vast network of underground tunnels used for centuries by outlaws and refugees

 

Interact with JDC's global responsibility work with Ukraine's elderly, teens, and children by visiting Chesed Social Welfare Centers, Jewish Community Centers, and through home visits with elderly receiving JDC aid

 

Engage 

with young social entrepreneurs in 

Kharkiv who

 improving the lives of their community through innovative programs

 

Participate in dynamic conversations around the value of global Jewish responsibility

 

Celebrate a meaningful Shabbat with the local Jewish community

 

Learn about Jewish history in Eastern Europe during a 

pre-trip 

virtual session with Ambassador Eizenstat,

 who has held 

a number of

 key government positions, including

 U.S. Ambassador to the European Union and

 Chief White House Domestic Policy Adviser

 
"I have had the opportunity to travel the world with peers, who at first were strangers and now are lifelong friends who inspire me to be my best self."
– Insider

Trip Participant
PARTICIPATION FEE
$850
**In addition to the participation fee, participants will be required to submit a $250 donation to take part in the Giving Circle
(This trip has been highly subsidized in order to provide greater access and opportunity. Average actual cost of an Entwine Insider Trip is estimated at $4,500/person)

Local transportation within Ukraine


Hotel accommodations (double occupancy)

Site visits, briefings, tours, etc.

Medical and emergency evacuation insurance.
*Please note that your participation fee does not include international airfare

Trip Dates
May 18-24, 2020
(GROUND DATES ONLY, does not include international flight)
Application Deadline
January 30, 2020
Ukraine is home to the third largest Jewish community in Europe and the fifth largest in the world. Like much of former Soviet Jewry, Ukraine's Jews have survived pogroms and the Holocaust, and outlasted Communist Jewish oppression. Today, though the country is struggling with economic turmoil and aging infrastructure, its Jewish community is growing, working tirelessly to assist its needy, and to foster leadership among its most dedicated. 
JDC reentered Ukraine to rebuild the shattered remnants of Jewish life following the fall of the Soviet Union. Faced with the acute suffering of Jews made vulnerable by the difficult political and economic transition, including the hyperinflation of the early 1990s, JDC began providing critical food, medicine, and other support that continues as its hallmark in the region.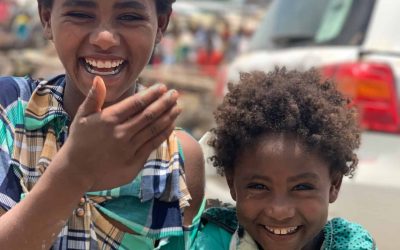 Join us on Discover Ethiopia, A Different Kind of Trip
read more