Join this faraway journey to Georgia & Azerbaijan to experience all that Central Asia has to offer! Soak up a culture full of diverse languages, religious minorities, and ethnic groups while learning about the renewal of Jewish life in post-communist societies through visits to local institutions and conversations with community members.
Explore and tour the Jewish communities of Tbilisi & Gori, Georgia and Baku & Quba, Azerbaijan.
Meet the unique community of Mountain Jews – the world's only all-Jewish town outside of Israel.
Visit an Azeri Bazaar in Azerbaijan to see local artisans in their traditional work.
Participate in home visits with elderly community members to learn about JDC's Hesed welfare model.
Learn about the history of Communism in the region with a visit to the Stalin Museum.
Lead activities for at-risk children, teens, and parents served by JDC's Jewish Family Services.
Experience the region's unique culture and cuisine through dance and architecture.
Travel the countryside, participate in wine tastings, and visit medieval castles and monasteries.
"I rarely interact with senior citizens in my local community and this trip reminded me how important it is to make connections with every generation. I was able to see the power of Judaism, I now feel a responsibility to help other Jews around the world."
– Insider Trip Participant
PARTICIPATION FEE
$1,250
(This trip has been highly subsidized in order to provide greater access and opportunity. Average actual cost of an Entwine Insider Trip is estimated at $4,500/person)

Local transportation within Georgia and Azerbaijan



Site visits, briefings, tours, etc.

Medical and emergency evacuation insurance

Trip Dates
June 30 –  July 8, 2019
(GROUND DATES ONLY, does not include international flight)
Application Deadline
March 11, 2019
More than two decades after the fall of Communism, JDC is working with Georgia's local Jewish communities to create opportunities for Jews to reconnect to their tradition. After Georgia obtained independence in 1991, JDC stepped in to help the community build a strong Jewish infrastructure and care for its needy and elderly. More recently, events have also required JDC's intervention; in 2002, a severe earthquake struck Georgia and political instability and tensions with Russia cultivated in the Russian-Georgian war of 2008. JDC played a central role in helping the Tbilisi Jewish community and surrounding communities caught in the midst of the fighting. Today, JDC provides lifesaving humanitarian interventions, and is revitalizing Jewish life through its work with Jews of all ages from nursery school programs to young adult engagement initiatives.
Jewish life in Azerbaijan, which has historically been centered in Baku, dates back hundreds of years. The Jewish community of Baku, and the smaller community in the city of Kuba, flourished well into the 20th century, until the rise of Communism ruled out Jewish expression. The collapse of the Soviet Union brought the opportunity for revival of Jewish life, but also left the country in economic ruin. With JDC's help, the Jews of Azerbaijan are working to further the welfare of the neediest and to preserve the community's Jewish heritage.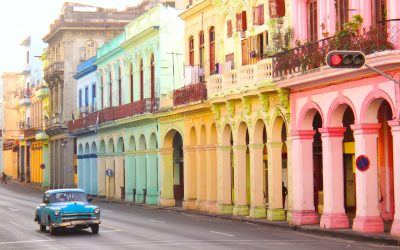 Gain an exclusive pass to Cuba – an island so close in proximity but that remains a mystery to many.
read more