with gabriel project mumbai
in partnership with KAHAL
Immerse yourself in the community building work of the world's largest Jewish humanitarian aid organization.  
JDC Entwine's Insider Trip to India with Gabriel Project Mumbai offers KAHAL alumni the opportunity to gain first-hand knowledge of JDC's global work through service and learning.  
Engage with like-minded individuals who share a passion for community building, international development and global engagement. This program is a two-week opportunity built to enhance your academic learning and professional development while traveling and exploring diverse cultures.  
Who is this program right for…
College juniors and seniors (ages 20-25)

 currently on, or

 who

 have

 completed

,

study abroad experiences

2019 

co

llege graduates 

who 

had

 a study abroad experience in the past three years

 and are

 looking to supplement and diversify academic and career experiences 

 

People interested in community building and global service 

 

Emerging and rising leaders who have demonstrate

d interest in public service or 

humanitarian aid work and global Jewish causes 

 

Those with a passion for adventure, living abroad, and exploring new cultures 

 
Week one…
Soak up the vibrant energy of Mumbai, India's most cosmopolitan city
Experience Mumbai's culture and Hindu, Muslim and Jewish traditions through cuisine, touring, and shopping
Engage with JDC partner organizations, Gabriel Project Mumbai (GPM), responding to some of India's greatest humanitarian challenges and development needs
Explore the Jewish community's history and current challenges through meaningful site visits and briefings with JDC professionals and local community leaders
Week two…
Spend time in Ashte, a rural village north of Mumbai, where GPM also runs educational, nutritional, and health initiatives
Learn about sustainable agriculture and meet with the local youth
Enjoy a unique opportunity to live in a rural tribal community and experience the challenges and joys of village life in a meaningful way
"I spoke no Hindi and she spoke no English, yet we communicated perfectly with smiles, contributing to each other's happiness. It was the purest moment of hospitality I have ever experienced."
– Inside India Participant
PARTICIPATION FEE
$500*
(This trip has been highly subsidized in order to provide greater access and opportunity. Average actual cost of an Entwine Insider Trip is estimated at $4,500/person)

Airport pick up/drop off in overseas location & local transportation



Group activities & excursions

Medical and emergency evacuation insurance and on-the-ground staff support.
*Please note that your participation fee does not include the following:
International airfare

Required Tourist Visa (India)

 

Leisure activities
Personal activities
Visas: All participants are required to secure a Tourist Visa in order to enter India and stay for the full duration of the program. JDC will provide support throughout the process as well as all supporting documents needed to apply for the visa. Please note that the actual granting of the visa is at the discretion of the Embassy of India and is not guaranteed. 

Trip Dates
December 16-29, 2019
(GROUND DATES ONLY, does not include international flight)
Application Deadline
September 15, 2019
Holding the second largest population in the world, India has a staggering 1.2 billion people. Mumbai alone is home to 22 million people and over 70% live in slums. People living in the slums have limited access to electricity, clean water, food, and educational opportunities. Gabriel Project Mumbai primarily works in the Kalwa Slum just outside of Mumbai which comprises 200,000 people. 
The Jewish population in India is about 4,350 with 85% of the Jews living in Mumbai and the surrounding areas. This small yet vibrant Jewish community is one of the oldest in the world, tracing their roots as far back as 2,000 years. Because of India's huge population and significant poverty, the country's limited government-run social services are massively overloaded. The Jewish or Bene Israel community lack the welfare infrastructure to meet all of the needs of poor, elderly, and vulnerable Jews among them. JDC, operational in India for over four decades, partners with various local organizations to provide welfare services for the neediest Jews in the community and helps to develop vibrant Jewish life in Mumbai through programs at the local Jewish Community Center.  
About Gabriel Project Mumbai (GPM)
Gabriel Project Mumbai (GPM) is a local Indian NGO caring for thousands of vulnerable children, in the slums and poor rural villages, through education, hygiene, nutrition and medical programs. GPM works in collaboration with local grass-roots organizations, women's empowerment groups, the business community and the Indian Jewish community.   
The Joint Distribution Committee (JDC) partners with GPM locally to connect the Indian Jewish community to the Jewish value of Tikkun Olam and empower them to take responsibility for the world around them. Additionally, JDC Entwine partners with GPM each year to send young Jews from around the world to learn about its initiative in the slums of Mumbai. Learn more about Gabriel Project Mumbai. 
KAHAL is a Jewish non-profit based out of Chicago and London, whose mission is to support the thousands of Jewish students who go to study abroad each year. It aims to build community among study abroad students while providing them with immersive and unique experiences. KAHAL offers travel advice, connections to local Jewish communities and general support to students while they are away, by working with partners in over 100 cities worldwide. Learn more about KAHAL here. https://kahalabroad.org/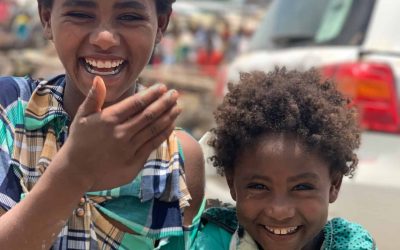 Join us on Discover Ethiopia, A Different Kind of Trip
read more