JDC Entwine's Global Seminar is an immersive overseas program for young adults looking to engage  with like-minded individuals who share a passion for community building and global leadership development. Through the program in India, participants can explore the work of Gabriel Project Mumbai, JDC's partner NGO in India. Participants will also have the opportunity to engage with the  Jewish community by meeting with local professionals  and partaking  in site visits to community institutions.  
Gabriel Project Mumbai (GPM) is a local Indian NGO caring for thousands of vulnerable children, in the slums and poor rural villages, through education, hygiene, nutrition and medical programs. GPM works in collaboration with local grass-roots organizations, women's empowerment groups, the business community and the Indian Jewish community.
The Joint Distribution Committee (JDC) partners with GPM locally to connect the Indian Jewish community to the Jewish value of Tikkun Olam and empower them to take responsibility for the world around them. Additionally, JDC Entwine partners with GPM each year to send young Jews from around the world to learn about its initiative in the slums of Mumbai. Learn more about Gabriel Project Mumbai.
Kalwa Slums: During the first two weeks, participants will be in Mumbai as they learn about the innovative educational programs implemented in the Kalwa slums and interact with local schoolchildren. Participants will explore a range of subjects with the local children such as English, math, hygiene, art and more! Entwine participants will also experience India's diverse culture and Hindu, Muslim and Jewish traditions through cuisine, historical sites, and shopping for colorful textiles. Participants will have the opportunity to soak up the vibrant energy of Mumbai, India's most cosmopolitan city, a mix between ancient traditions and forward-thinking innovation. 
Ashte Village: The third week will be spent in Ashte, a rural village north of Mumbai, where GPM also runs educational, nutritional, and health initiatives. Entwine participants will learn about sustainable agriculture and meet with the local youth of Ashte. This is a unique experience where participants will be living in a rural tribal community and will experience the challenges and joys of village life in a meaningful way.
Desired Qualifications:
Background or interest in working on educational programs with children
Flexibility and comfort working in the setting of India's slums
Ability to adapt, comfortable in new cultural contexts
Passion for volunteerism and instilling the Jewish value of Tikkun Olam
"My experience volunteering in India was hands-down the most transformative cultural experience of my life."
– 2015 Fellow

Airport pick up/drop off in overseas location & transportation to/from service work site



Group activities & excursions

Comprehensive health and emergency evacuation insurance & on-the-ground staff support
*Please note that your participation fee does not include:
International airfare
Most meals
Visa (required for US passport holders; JDC will provide visa application instructions and support)
Leisure activities
Personal expenses
Visas: All participants are required to secure a Tourist Visa in order to enter India and stay for the full duration of the program. JDC will provide support throughout the process as well as all supporting documents needed to apply for the visa. Please note that the actual granting of the visa is at the discretion of the Embassy of India and is not guaranteed.

Placement Dates
June 12 – July 3
(subject to change)
Application Deadline
April 1, 2019
About the Jewish Community in India
Holding the second largest population in the world, India has a staggering 1.2 billion people. Mumbai alone is home to 22 million people and over 70% live in slums. People living in the slums have limited access to electricity, clean water, food, and educational opportunities. Gabriel Project Mumbai primarily works in the Kawla Slum just outside of Mumbai which comprises 200,000 people.
The Jewish population in India is about 4,350 with 85% of the Jews living in Mumbai and the surrounding areas. This small yet vibrant Jewish community is one of the oldest in the world, tracing their roots as far back as 2,000 years. Because of India's huge population and significant poverty, the country's limited government-run social services are massively overloaded. The Jewish or Bene Israel community lack the welfare infrastructure to meet all of the needs of poor, elderly, and vulnerable Jews among them. JDC, operational in India for over four decades, partners with various local organizations to provide welfare services for the neediest Jews in the community and helps to develop vibrant Jewish life in Mumbai through programs at the local Jewish Community Center.
Explore more Entwine experiences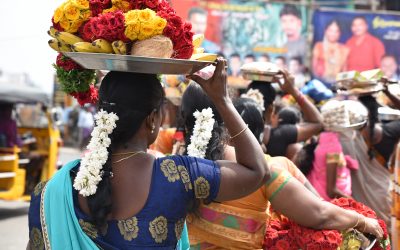 Travel with young professionals and enagage with JDC's critical international development work in India.
read more