Volunteer Placement: The International Jewish Youth Summer Camp in Szarvas, Hungary was established in 1990 by JDC and the Ronald S. Lauder Foundation with the aim to create an international Jewish experience for Jewish youth in Eastern and Central Europe. After the Holocaust and 50 years of repression of Jewish life under communism, Szarvas enables young Jews of Eastern Europe to find and build their Jewish identity. Since its founding, the camp has grown tremendously, today hosting 2,000 youngsters each summer from more than 20 different countries around the world including Romania, Russia, Former Yugoslavia, Turkey, India, Israel and more.
Szarvas serves as a catalyst to build Jewish life and meet friends from around the world. Exposing its participants to an unparalleled Jewish experience through its cultural, linguistic, and Jewish diversity, Szarvas is a unique informal education arena. The camp's program blends a challenging Jewish educational program with recreational activities such as arts and crafts, Israeli dancing, swimming, sports, canoeing and more. The camp is led by an international educational staff and as such it serves as a platform for the development of Jewish communal leadership for the participating communities. A second home for participants, Szarvas is a dynamic and vital part of the global Jewish revival. JDC Entwine collaborates with Szarvas each year to send young Jews from around the world to volunteer at camp, helping Szarvas broaden its Jewish diversity and assist in actualizing global Jewish communal life.
Placements may include a combination of the following:
Sports Madrich/a: The Sport Madrichim (counselors) will lead sports programming and activities for campers ages 6-18.  Fellows should have leadership and instruction skills in order to lead various sport activities. Fellows will also lead camp-wide athletic competitions such as soccer, basketball, volleyball, running, swimming, etc. This role is ideal for someone who has experience with sports instruction in an informal educational environment (summer camp, JCC etc.)
Outdoor Training Madrich/a (Rock Climbing or High Rope Course): The Outdoor Training Madrichim are responsible for running the rock climbing and/or high ropes course sessions for all age groups at camp. In this role the Fellow will teach campers about teamwork, how to overcome obstacles, and provide general support and encouragement. The fellow will facilitate group reflection sessions in order to process the experience and support informal learning. This role is ideal for someone with strong experience in team-building and adventure sports.
Arts Madrich/a: Art Madrichim are responsible for leading art activities for campers ages 6-18. In this creative role the Fellow should have the ability to connect kids to Judaism through arts and crafts. The Fellow will also be responsible for general camp decorations, as well as decorations for special events. This role is ideal for someone who has an art background and experience in developing creative projects.
Writing Madrich/a: The Writing Madrichim will be responsible for documenting the amazing atmosphere at Camp Szarvas! Through personal interviews with staff and campers, the writing fellow will use their creative communication skills to transform the Szarvas experience into enticing and well-written content. The writing fellow's work may be used in a variety of ways, including important donor correspondences. This role requires independent workers who flourish when given creative freedom. Experience in using social media.
Desired Qualifications:
Experience working with kids of various ages
Experience at Jewish camp or programming
Background in Jewish informal or formal education would be a plus
Interest in learning about the global Jewish community
"It really was a life changing experience and I would highly recommend it to anyone I speak to!"
– 2017 Fellow
PARTICIPATION FEE
$500 USD per session*

Airport pick up/drop off in overseas location



Group activities & excursions

Comprehensive health and emergency evacuation insurance & on-the-ground staff support
Your participation fee does not include:
International airfare
Meals while not at camp
Visa (not required for US passport holders)
Leisure activities
Personal expenses
*Please note that the participation fee is highly subsidized for North American and UK Fellows. The full, unsubsidized cost of participation is $3,050. Additionally, the Marion Lemesh Fellowship enables applicants from outside of North America and the UK to participate in this experience through a generous donation. Please find more information about the Marion Lemesh Fellowship and requirements here. Grantees will be awarded an additional subsidy of $250.

Placement Dates
June 18 – July 26
(subject to change)
Application Deadline
April 1, 2019
About the Jewish Community in Hungary
Hungary is home to the fourth largest Jewish population in Europe—a community going through an inspiring renaissance following decades of religious repression under Communism preceded by the trials of the Second World War. Yet, the current recession climate poses serious challenges to Hungary's Jewish community, which is struggling to care for the elderly and children at risk of falling through the seams of the country's deficient safety net. JDC works in Hungary to provide social services to the neediest, expand Jewish renewal and outreach activities, and promote community development.
Explore more Entwine experiences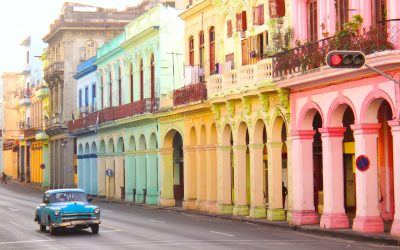 Gain an exclusive pass to Cuba – an island so close in proximity but that remains a mystery to many.
read more