the Stephen and Sheila Lieberman
Global Leaders Trip
Inside Nepal is a unique opportunity to join a cohort of 20 young Jewish leaders from across the globe to explore JDC's humanitarian efforts in response to the devastating 2015 earthquake, discover what it means to be a leader in an increasingly global world, and take part in an intensive leadership exchange. Experience the rich culture of Nepal through interactive visits, cultural immersion, and meaningful exchanges with local young leaders.
Please note: To ensure that this is truly a global leadership experience, there are limited spots available for participants from North America and the UK. 
Travel with JDC disaster relief and international development experts and other Jewish young professionals from around the world.
Join a cohort of international young leaders to engage with JDC's disaster response work in the fields of educational support, women's leadership, and humanitarian relief.
Gain first-hand insight into challenges facing Nepal three years after the devastating humanitarian disaster caused by a historic 7.8 magnitude earthquake in April 2015.
Engage in conversations with leaders of key local partner organizations, including UNICEF, Homenet South Asia, Rural Reconstruction Nepal, Tevel B'Tzedek, and other program beneficiaries.
Learn about Buddhist traditions, sample Nepali cuisine, trek in the Himalayas, and visit Nepal's most sacred site, the Boudhanath Stupa.
PARTICIPATION FEE
The participation fee for North American and UK participants is $850 USD, not inclusive of international flights.
Participants from outside of North America and the UK will be responsible for the cost of their international flights only.
Limited travel subsidies for international participants to help offset the cost of flights are available upon request. Please be in touch with Sofia Parody at sofia.parody@jdc.org for any questions.




Site visits, briefings, tours, etc.
Medical and emergency evacuation insurance.
Participants will be responsible for booking their own round-trip airfare to and from Kathmandu. Travel logistics details will be shared upon notification of acceptance.

Trip Dates
December 24-30, 2018
(GROUND DATES ONLY, does not include international flight)
Application Deadline
July 15, 2018
In April and May 2015, twin earthquakes rocked Nepal, killing more than 8,800 and injuring 22,300 people, destroying nearly 600,000 homes, and damaging another 280,000. Following the disaster, while grappling with the devastating loss of loved ones, homes, livelihoods, and basic infrastructure, people throughout the country faced additional hardships with monsoons, blockades to supply routes, and the ensuing harsh, cold winter months. JDC quickly mobilized in the days following the earthquake and in the following years to provide direct assistance to more than 49,000 people in some of the country's most remote and hardest hit areas. JDC focused its response on the needs of the most vulnerable – women, children, the elderly, and people with special needs.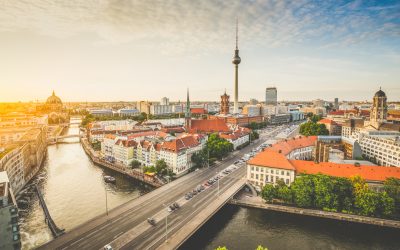 Experience the modern renaissance of Jewish life in Poland and Germany.
read more