Frances C. Eizenstat JDC Fellowship in International Jewish Service
Gain an exclusive look into these two unique Jewish communities as we embark on a historical journey throughout the former Soviet Union. Learn about JDC's work in the region and how JDC has come to collaborate with communities in shaping their Jewish future. Tour the stunning architectural landscape of St. Petersburg and enjoy a festive night out with Latvian young adults in the late night club district of Riga!
About the Frances C. Eizenstat JDC Fellowship in International Jewish Service:
Inside Jewish Ukraine is in honor of Frances C. Eizenstat z"l, a great Jewish leader. Ms. Eizenstat's commitment to improving the lives of those in need around the world was evident in nearly everything she did, including her 12 years as a JDC Board Member. In line with Fran's interest and support of communities in the process of rebuilding Jewish life, this experience allows young adults to experience, learn, and contribute to the building of Jewish life and welfare needs in post-communist countries.
Explore St. Petersburg, a world famous city rich with culture, art, and history.
Engage with JDC programs that helped the Russian Jewish community rebuild after decades of communist anti-religious oppression.
Exchange with Latvian local young professionals and community leaders to gain a unique perspective of current challenges, their efforts to find solutions, and the notion of collective responsibility.
Honor the lives of the 25,000 Jews of the Riga ghetto who were murdered during WWII at the Rumbula Forest Memorial
Visit the JCC in Riga and learn about the innovative Jewish programming that is being created by the local Jewish community in partnership with JDC
"This trip will change all of us for the better – what we have witnessed has been humbling. I am taking away a renewed vigor for Jewish life and Jewish community both locally and globally."
– Insider Trip Participant
PARTICIPATION FEE
$1,500 USD*
(This trip has been highly subsidized in order to provide greater access and
opportunity. Average actual cost of an Entwine Insider Trip is estimated at $4,500/person)

Local transportation within Latvia and Russia



Site visits, briefings, tours, etc.
Medical and emergency evacuation insurance.
*Please note that your participation fee does not include international airfare to/from Latvia and Russia.

Trip Dates
September 9-16, 2019
(GROUND DATES ONLY, does not include international flight)
Application deadline
April 14, 2019
In the wake of the wars and communist rule that divided Europe over the past century, JDC has worked to rebuild shattered lives and fractured Jewish communities throughout the continent. Today, JDC partners with local communities throughout the region to tackle the current realities of new borders and accelerated change. From Berlin to Bucharest, JDC provides critical assistance to meet the vital needs of Jews at risk, help foster self-sustaining communities, and pave the path for the next generation.
The largest country in the world, Russia has been experiencing dramatic changes. The gap between the rich and poor is continuously growing and there is increased migration from the country's periphery to its urban centers as people search for new opportunities. More than two decades after the fall of communism, which hindered the development of Jewish life in this vast country for over 70 years, JDC continues to create opportunities for Jews to reconnect to their tradition.
St. Petersburg's Jews are economically diverse, culturally sophisticated, and highly assimilated. They also have a strong desire to reconnect with their Jewish heritage. JDC is revitalizing Jewish life by reconnecting Russian Jews who were cut off from Jewish tradition through high-quality Jewish family retreats, summer camps, Hillels, and other creative Jewish Community Center programs. Through innovative programs for communal staff and volunteers, JDC is creating the next generation of Jewish leaders to ensure the continuity of Jewish life in Russia.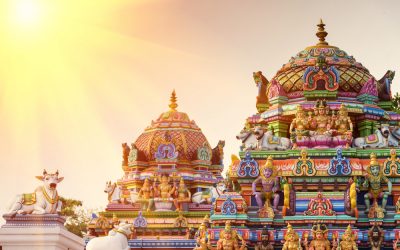 Experience the small, but vibrant Jewish community of India.
read more