for LGBTQ+ Young Professionals
Explore the vibrant Eastern European cities of Berlin and Budapest and connect with a group of LGBTQ+ Jewish young professionals through this unique Insider Trip.
In recent decades, both Germany and Hungary have worked to integrate LGBTQ+ rights into their social agendas and have been key leaders in creating safe social and financial spaces for people in the queer community. And though progress has been made, challenges still exist, influenced by history, politics, and culture. This trip will provide an opportunity to learn about these key issues, understand the role each of these Jewish communities play in supporting LGBTQ+ rights, explore JDC's work in each community, and grapple with what it means to be LGBTQ+ in complex and ever-changing global environments.
This trip is open to all members of the LGBTQ+ community. We encourage any and all gay, lesbian, bi-sexual, trans, non- binary, and queer identifying folks, people of color and all other identities in this community to apply.
Experience Hungarian and German culture through food, arts, and a once-in-a-lifetime Shabbat experience with the local Jewish community.

Connect with Hungarian and German LGBTQ+ peers, and local Jewish professionals.

Learn about the history of Jewish life and its correlation to LGBTQ+ rights in Eastern Europe.

Attend briefings with community leaders and visit advocacy groups and initiatives that work to advance the rights of LGBTQ+ people in Hungary and Germany.

Understand the issues facing two unique Jewish communities 20 years after the fall of communism and how it affects the reality of the LGBTQ+ community in these locations.

Visit the elderly, teens and children in Budapest and Berlin and explore JDC's work in these communities.
"One's destination is never a place, but a new way of seeing things."
– Henry Miller
PARTICIPATION FEE
$1500*
This trip has been highly subsidized in order to provide greater access and opportunity. Average actual cost of an Entwine Insider Trip is estimated at $4,500/person. 
Additional scholarships are also available on an as needed basis for participants who request additional funds. As part of the application process, you will be given an opportunity to share a range you feel most comfortable paying and we will do our best to ensure all applicants have an equal opportunity to participate.




Site visits, briefings, tours, etc.
Medical and emergency evacuation insurance
*The price of this trip does not include international airfare.

Trip Dates
October 15 – 22, 2018
(GROUND DATES ONLY, does not include international flight)
Application Deadline
August 8, 2018
Hungary is home to some 120,000 Jews making it the fourth largest Jewish population in Europe and JDC has a long history working inside its borders. In the aftermath of World War I, JDC responded to the dire needs of Jews ravaged by hunger, disease, and war. Since World War I, JDC has offered assistance to Hungarian Jews during the darkest days of World War II, in the communist era, and now in the aftermath of communism's fall. The country held its first multiparty elections in 1990 and in the last 20 years, has developed a market economy and joined the European Union in 2004. The transition to a market economy was welcomed on the world stage but its effects were not all positive. Elderly Jews—many of them Holocaust survivors—were particularly hard hit in this new economy and found themselves unable to meet their basic needs on a fixed income. JDC works in Hungary to provide social services to the neediest, expand Jewish renewal and outreach activities, and promote community development.
The Jews of Germany have made great strides in the decades since the war, rising from a traumatized, decimated community to a thriving magnet for Jewish immigration and culture. Greatly swelling the number of German Jews who returned to their homes after the war, significant waves of newcomers have contributed to the population boom of the last twenty-five years. From an approximate count of 20,000 Jews in Germany in the 1950s, the population is today estimated at 275,000, making it the third largest Jewish community in Europe. The community has been bolstered by Eastern European immigration in the 1980s and Russian immigration in the 1990s. In addition, an estimated 100,000 Israelis have received German citizenship, with 18,000 of those choosing to live in Germany, predominantly in Berlin. Thousands more apply for citizenship each year
JDC works with local organizations to offer a broad mix of quality programs that appeal to Jews of different affiliations and backgrounds. Innovative social and cultural programs for all age groups operate in some 30 cities, with a following among Russian-speaking and German-speaking Jews. JDC's programs encourage cooperation among the smaller communities, and emphasize outreach to young adults, young families, and the middle generation.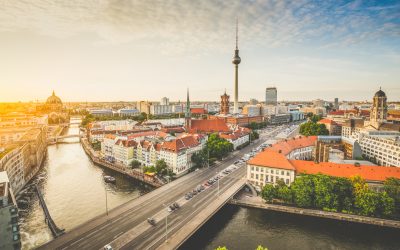 Experience the modern renaissance of Jewish life in Poland and Germany.
read more